Hello and thank you for visiting MY Art Memory Project (MAMP), a one-stop website where you can browse through archival materials and critical resources about performing arts and culture in Malaysia.
You probably have some questions in mind:
"How do I start my research on Malaysian arts and culture?"
"I have ideas, but I don't know enough about what other research has already been done in this field."
"Where can I find the materials that I need to support my opinions?"
"How much research is considered adequate?"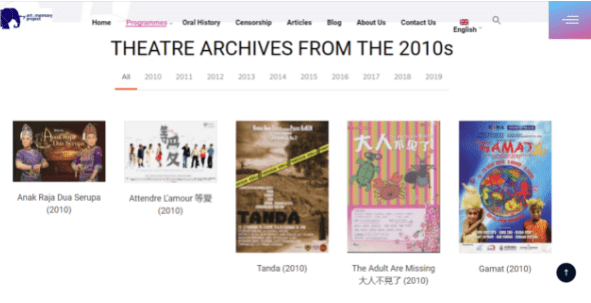 But first, what is the meaning of archive? Archive ('arkib' in Malay) is a compilation of historical records, in various mediums, that have  been kept to display the individual's or organisation's work over the years. Anyone, especially future generations, can benefit from viewing documents and resources to learn about the the history of an organisation's or indivdual's practice.  
Read about why we are building an archive of our own in Malaysia here.
Now that we have some basics, this article will guide you through how to research performing arts in Malaysia by using the MAMP website.
Creating an Effective Research Project Strategy
Here are the things to keep in mind when narrowing down your ideas and building a strong foundation in your research project:
Choose a topic that has societal interest that can be extended.
Think about why this research is important to solve a particular problem or answer a research question or test a hypothesis.
Create a list of specific questions related to that problem.
Identify what and who has already answered these questions. What is the current gap?
Craft a research design that consists of methods of collecting and analysing data.
Using the Right Keywords for Your Research
Keywords are important for your research because it helps you to find the materials online and at physical spaces such as libraries.
Most of the search engines, databases and journal websites use specific keywords to show a list of materials.
Including the keywords in your research paper is useful, too! Other researchers will be able to find your paper. You will also get more citations.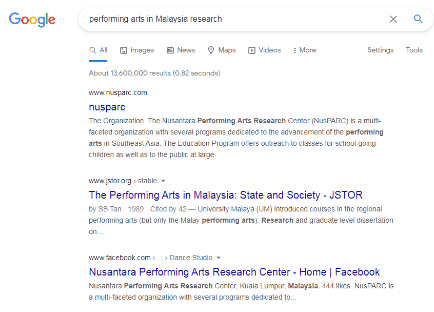 Here are some tips to input your keywords to search for your materials.
Be in the reader's shoes – think about what the readers are searching for and what terms or phrases they often use
Have 2 – 5 words in keywords
Relate to your research topic and problem
Add in shortened words or acronyms if any
Be specific
Once you have the keywords and your research strategy in place, it's time to kick-start your journey in collecting and analysing research materials. Let's take our website as an example for doing your research.
How to use the MAMP Website to Your Benefit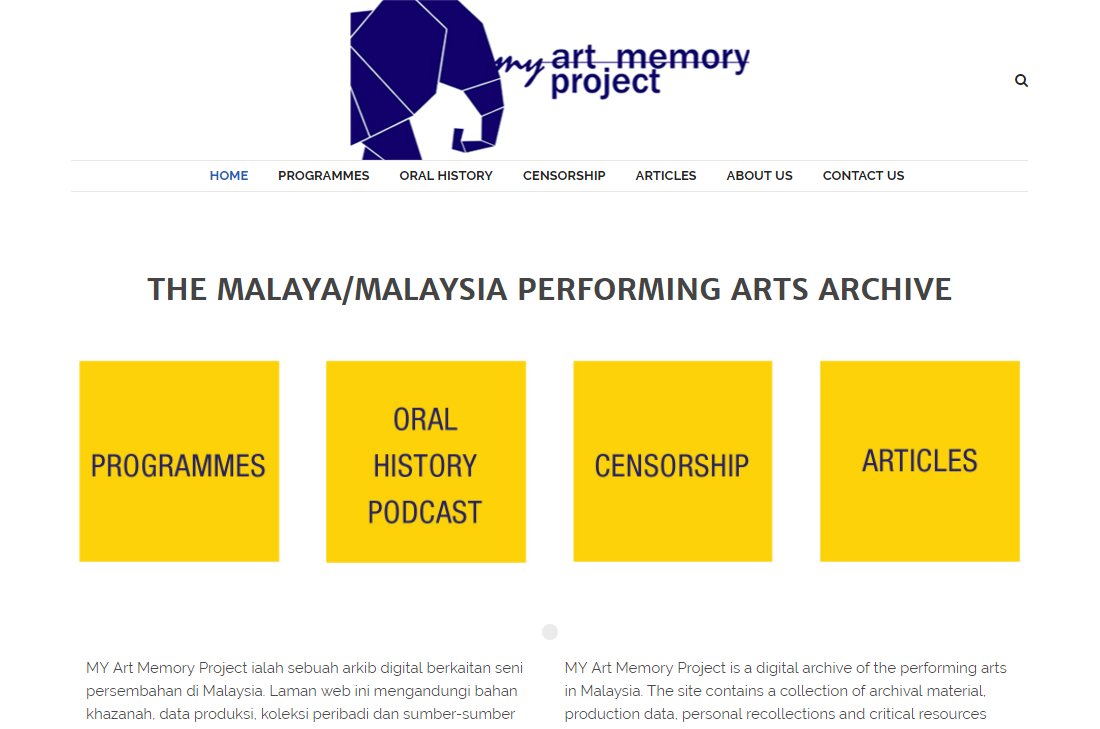 Here are the sections to browse through and collect materials that you need for your research.
Programmes: theatre history
Did you know that the late great Malaysian playwright and director, Allahyarham Datuk Syed Alwi played the role of Duke of Bedford in Henry the Fifth in 1952? Produced by the Theatre Arts Group, the play was staged at the Selangor Badminton Hall and was directed by James Bush.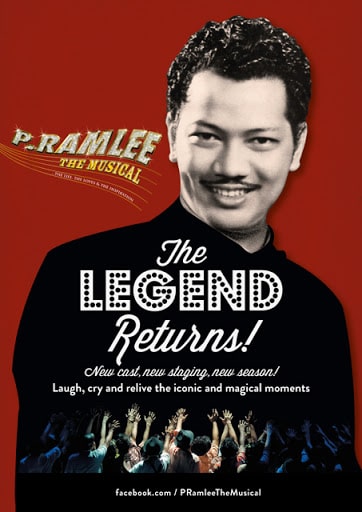 You'll find many other fascinating nuggets about the early days of theatre in Malaysia in the Programmes section. Since January 2017, we've scanned hundreds of programme books, souvenir booklets (as they were called then), posters and press clippings of productions staged in Malaysia.
Today, MAMP has information on more than 1,300 theatre productions in its digital archive. It's a treasure for anyone who is serious about getting involved in the Malaysian arts scene to discover Malaysia's performing arts history.
Browse by year and get a sense of the evolution of theatre from the early days where the Western cannon dominated, to the 1960s, when an emerging sense of national identity is visible through the staging of original Malaysian works.
Select the materials you want to view by decades on MAMP, which will show you a wide range of theatre productions that happened during that time.
For example, if you want to learn more about what performing art shows were produced in the final decade of the 20th century, click on the 1990s which takes you to this section: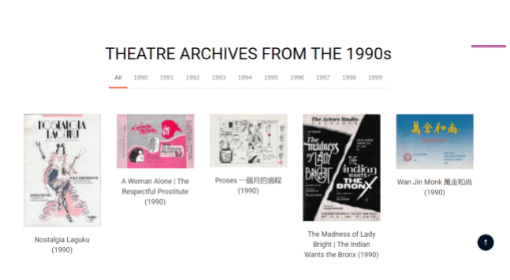 Scroll down to the programme book thumbnails, and click on each, which will take you to a page like the one  below. Click on the scanned images of the programme book to look closer at them.
Synopsis and credits are included on each page.  Ask yourself if there are any themes that seem to recur in the works staged? Can looking at what plays a society staged tell you something about the zeitgeist at the time? 
Oral History Video and Podcast: Hear it Straight
A sad reality is that when a pioneer in the art industry leaves us, so does their knowledge and experience. Prior to the internet, there were some books, radio and documentaries that captured the lived experiences of our artists. But a lot of this information was handed down over conversations. Hence, it was retained with a small group of people. 
Our oral history program, Remember When… is an interview with artists based on their experiences working on a specific, historically important work of art. Together, MAMP hopes to capture a reflective, complex and highly personal history of Malaysian performing arts. 
Listen to "Remember When… Uda dan Dara" with Faridah Merican & Rahim Razali (2017) as the performing art creators discuss how a poem can turn into a short story, and eventually break into RTM. That's like an Instagram story eventually making into Netflix. The platforms change, the ideas and process don't. Listen to this conversation about how the team found financiers and producers for theatre arts to go on television in the 70s.
Remember When…1984 Here & Now is a conversation Kee Thuan Chye, Fatima Abu Bakar and Mano Maniam about a play so a controversial that people at the time half expected the Special Branch to show up.
The recordings of these conversations are available on Five Arts Centre's YouTube channel.
Interviewing with Malaysia's performing art community is one of the best ways of learning more about the topic you are researching as they provide credible stories.
Here are a couple of suggestions for doing interviews:
Find the right person who will provide useful information (eg. a person who has done a research paper you are analysing)
Do background research of the person you are interviewing
Address your research purpose to your interviewee
Ask specific questions so you will get detailed answers
Keep interview recordings in audio, video and transcriptions
Ask for permission and clarifications from interviewees before publishing their opinions in your paper
The more in-depth conversations you have with the people in this community, the more you will learn about the performing arts in Malaysia which will enable you to come up with your research question. 
Censorship: Freedom Of Expression Under Threat In Malaysia
Think Fahmi Reza is the first to be questioned for his art by the government? Take a look at the various incidents throughout Malaya/Malaysia's arts history in MAMP's Censorship Chronology feature. Some of these cases (more below) will blow your mind.
MAMP's Censorship Chronology is a record of arts and culture censorship in Malaysia. It includes documentation of banning or censoring individuals or groups from enacting their rights to freedom of expression in the artistic and cultural space.

Each entry features an event or incident which we hope will instigate further research and documentation. Links to sources are provided so credibility of these sources are verified. 
This chronology takes you through the vital stories of censorship and controversies in Malaysian arts and culture, including visual arts, performing arts, TV and film.
ARTICLES : Equip Yourself with information about Malaysian Art & Culture
Any country's performing arts history is difficult to summarize. Nuance is lost when we try to draw big pictures. The archive does not impose any specific view of the arts. Rather it presents historical documents for you to go through and come to your own conclusion.
This section consists of articles, essays, reviews and interviews which cover Malaysian arts and culture. Most of these materials were commissioned and published in the online art magazine, Kakiseni between 2002 – 2010. We've also got a collection of articles written by the pioneering arts blogger Sultan Muzaffar on his blog from 2003 – 2010. 
We're still working on our internal search capacity for the website. But if you hold some patience for us (we are uploading content from pre-television era) and scroll through the pages, you will find gems, like this 2008 article, "Looking Backwards" by Helen Musa.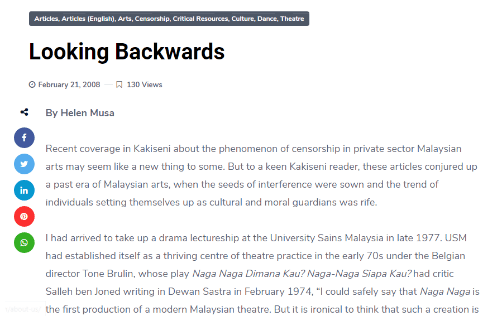 Click on the article tags (above the title), which will take you to a list of materials related to "Censorship".

Some of the evergreen topics we suggest going through are:
(1) The Business of Theatre
(2) The Year The Arts Showed the Way (Part II)
(3) Looking Backwards
Reaching out to the MAMP team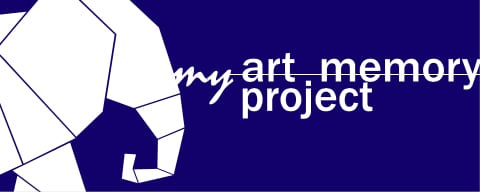 We are happy to help in providing information and answer your clarifications about the research materials on our digital archive.
Anyone can contribute information and document Malaysia's performing arts history. Even your research project can be submitted to MAMP!
We can also suggest and connect with people whom you want to interview for your research.
Send in the information of your research via Contact Us and we will take it from there together.
Wrapping things up
Come up with an effective research project strategy
Using important keywords for your research
Searching for related materials on MAMP's website
Interview with the right people in Malaysia's performing art industry
Having conversations with the MAMP team
We hope this guide will help you in researching the performing arts in Malaysia.
Head over to our website and start browsing through our digital archive. We look forward to your research that keeps the conversation going.